This is a show about characters
(all but Molly and the new police officers were created by Sir Arthur Conan Doyle):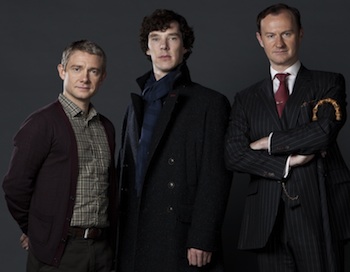 Sherlock (Benedict Cumberbatch), John Watson (Martin Freeman) and Mycroft Holmes (Mark Gatiss)
The Main Characters




Two place and one piece of clothing are almost characters in the original Sherlock Holmes and in the new BBC version of Sherlock:




The show has turned into a family affair but all are professionals, or in the case of the child, gives a professional performance:

Executive Producer Sue Vertue is the wife of co-creator Steven Moffat.
Watson's wife is played by Martin Freeman's wife, Amanda Abbington, a professional actor.
Sherlock's parents are played by Benedict Cumberbatch's parents, who are both professional actors (Wanda Ventham and Timothy Carlton).
Young Sherlock in "His Last Vow" is played by co-creator Steven Moffat and Executive Producer Sue Vertue's son, Louis Oliver.
Moffat's mother-in-law Beryl Vertue also serves as executive producer.


Help this site in two ways:
When you want to buy the DVDs or Other Merchandise, start on our Merchandise page or click on a banner in the footer. This costs you nothing.
See a mistake? Know any info that should be on the site? Email Sherlock@BEWarne.com. We have a gold star page so tell us how you want to be listed (name, nickname, initials, etc.).