January 17, 2017:
When will the Fourth Series of Sherlock be Available on Netflix?
Based on the pattern set by the second and third seasons, which, like the fourth, first premiered on TV on New Year's Day, it looks like season four will make its way to Netflix in June or July. According to Netflix Life, both season two and three were made available on the streaming platform six months after the first episode aired.

For those who may want to catch up on prior episodes, seasons one through three are available to stream. Also, episodes two and three of season four can be viewed for free on the PBS site. They expire on Jan. 24 and Jan. 29 respectively.

But the series will be available from Amazon on January 24, 2017 (About 10 days after the last episode ran) and you can Pre-Order Sherlock: Series Four Now
in Blu-Ray or DVD.
January 13, 2017:

How Sherlock Films Thought (Linked to by - Radio Times)
January 11, 2017:

Short Trailer for "The Final Problem"
January 10, 2017:

Trailer for "The Final Problem"
.
December 30, 2016:

New Videos up on Spoilers page with scenes from New Years episode.
And they encourage you to subscribe to the BBC's channel of videos. Click on the YouTube link on the Parenthood one and at the bottom hit "Subscribe".
December 29, 2016:

Steven Moffat | Full Talk and Q&A | Oxford Union: On Being a Writer
See our new page about the Co-Creators, Writers of Sherlock, especially Steven's talk to Oxford students on being a writer.
December 12, 2016:

"Sherlock" New Official Promo
December 7, 2016:

"Sherlock" Fourth Series Broadcast dates:
"As we know, episode one – titled 'The Six Thatchers' – will be broadcast on BBC One in the UK and PBS Masterpiece in the US on Jan 1st. 'The Lying Detective' will then follow on January 8th with the untitled third episode bringing up the rear on January 15th." ---See more at Sherlock's Home
December 6, 2016:

"Sherlock" Image of Hints or Diversions (from the BBC's The Radio Times)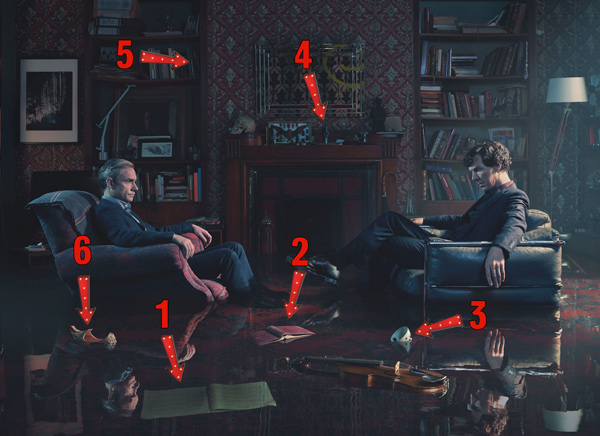 Even though this is from the official BBC publication, The Radio Times, There seems to be a great deal of speculation here. Maybe nothing but speculation. It is posted in our News section only because it comes from the The Radio Times.

Click on the link at your own risk of spoilers.




December 5, 2016:

New "Sherlock" Official Teaser



September 1, 2016:

"Sherlock" Fourth Series Official Teaser




August 1, 2016:

Sherlock has a new partner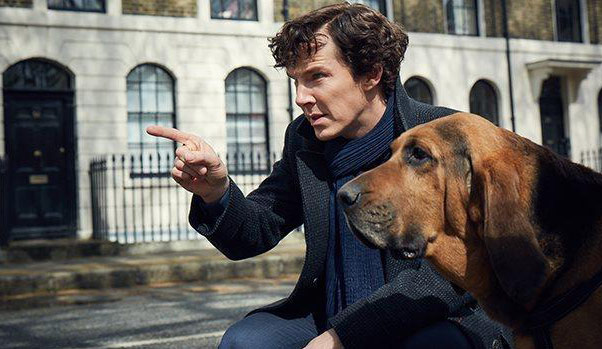 July 22, 2016:

MASTERPIECE | Sherlock: First Look At Season 4 | PBS
June 11, 2016:
Second episode of 4th season is going to include some aspects of "The Adventure of The Dying Detective". Episode will be directed by Nick Hurran
Culverton Smith is the name of Toby Jones' character in the forthcoming series of Sherlock, according to the Cultbox website. Trailed by the show's creators as 'one of Doyle's finest villains' last month, it has now been confirmed that the tropical diseases expert from The Adventure Of The Dying Detective will be brought to life by Jones. Culverton Smith's grudge against Sherlock Holmes began when the latter suspected him of his nephew's murder in Arthur Conan Doyle's original story. Resolving to rid himself of this troublesome detective, Smith infected a spring-loaded pin with a deadly disease and posted it to 221B Baker Street with the intention of killing Holmes. The Great Detective, however, suspected the threat against his life and decided to feign infection in order to trap Smith and have him very arrested for the previous murder and other nefarious skulduggery and naughty doings. To ensure his faked illness ruse would work, Holmes first had to convince Doctor Watson, which he duly did, leaving Watson distraught... ---See more at Keith Topping Blog
June 2, 2016:
First Look at Sherlock Manga's English Language debut of "A Study in Pink" from The Nerdist
Pre-Order
Paperback ($12.99)
or Kindle
The Nerdist says, "Titan Comics has picked up the series for distribution in the UK and North America and we have a look at a couple of pages from the first of the series, based on the first episode, "A Study in Pink." It's kind of amazing how well Sherlock translates to manga form...."

"The first issue of the English-language reprint is a massive 52-page affair and will go on sale Wednesday, June 8...."

They show several images including the five covers (a small version shown below). See all covers and a few panels at The Nerdist
May 25, 2016:

Sherlock to film in Morocco:
"Word on the street says that Sherlock series 4 will be filming scenes in Marrakesh, Morocco..." - from Den of Geeks
"'Sherlock' to Feature Scenes Shot in Morocco" - from Morocco World News
May 4, 2016:

-The Japanese SHERLOCK Manga continues in an all-new English edition and Sherlock Coloring Books
April 14, 2016:

Tom Hiddleston kills speculation about him appearing in Sherlock:
"Hiddleston has finally come out to address speculations that he was tapped to appear in future episodes of Sherlock. Speaking in an interview with Tribeca Shortlist, [he] admitted that there has not been any discussion between his people and BBC about possibly starring in the detective series.... 'I've never been approached to be in Sherlock,' the actor stated. 'I don't understand where that rumor has come from. So you heard it first, everybody: no Sherlock."
April 10, 2016:

Daniel-Hoffmann-Gill will be in first episode of the Fourth Season: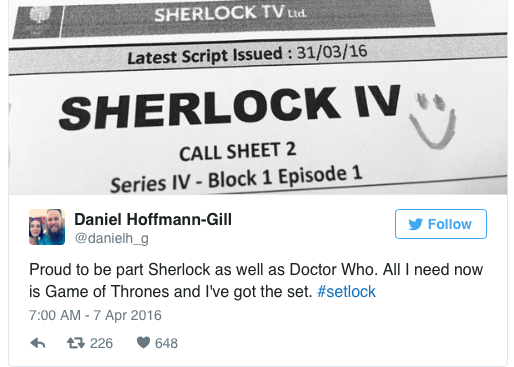 April 8, 2016:

Gatiss announces that they have started filming Season 4
For the first time, Sherlock will have a female director. "The first of the three feature-length episodes will be directed by Rachel Talalay, who has worked as a director, producer and professor in film and television for more than 25 years, having previously directed 'Doctor Who,' 'The Flash' and 'The Wind in the Willows'.

"Talalay's movie credits include 'Tank Girl' for United Artists, 'Ghost in the Machine' for 20th Century Fox, 'Freddy's Dead: The Final Nightmare' and upcoming independent film 'An Introvert's Guide to High School.' She holds dual U.S./Canadian citizenship, but is a permanent U.K. resident.

"Season four begins with Sherlock Holmes back once more on British soil, as Doctor Watson and his wife Mary prepare for their biggest ever challenge — becoming parents for the first time." - from Variety
April 4, 2016:
Filming Starts on Sherlock Season 4
Mark Gatiss hinted at it in a Tweet a week or so ago, Amanda Abbington's tweet this morning was more specific ("And we are off… #setlock"), The Radio Times had a report on it, and production wrapped on Marvel's Doctor Strange yesterday. The stars have aligned,
April 1, 2016:
Douglas Wilmer, Sherlock Holmes Actor, Dies at 96
"The London native played the famous detective for the BBC and in a Gene Wilder film and had many brushes with the character over the years."
"Douglas Wilmer...began a long association with Sherlock Holmes when he ably portrayed Sir Arthur Conan Doyle's legendary sleuth on a 1960s series for the BBC. [He] died Thursday."
"The London-born actor first played Holmes opposite Nigel Stock as Dr. Watson in 1964 (for a pilot episode) and then for an 11-episode season in 1965. (For another season of Sherlock Holmes, Peter Cushing replaced him in 1968.)"
Here is a scene of him playing Holmes:

March 28, 2016:

Someone wrote us who has one of the Sherlock type frock coats for sale
We thought we would pass on the information although we know nothing about this person. They are not paying us to put this up. We are just passing along the information. For their email address see our page on the Frock Coat.
March 16, 2016:

Rumors keep popping up that Tom Hiddleston will play the third Holmes brother, but he is in Vietnam and "Sherlock" is about to film.
Hiddleston "who is hotly tipped to be the next James Bond - is in the Southern Asian country filming a new blockbuster movie." That doesn't prove anything but it is really likely this is a rumor that will not die and has nothing to do with the casting of the fourth series of "Sherlock".
February 12, 2016:
Sherlock Holmes: The Devil's Daughter game set for release May 27, 2016
"The Devil's Daughter is coming to PlayStation 4, Xbox One and PC on May 27th.... It features a younger Holmes than in Crimes & Punishment, the most recent game in the series, but carries on with that game's freedom to deduce and interpret the evidence in several different ways, while also adding in a more open design and set pieces like having to tail a suspect or witness."
Fourth series set to broadcast in January 2017. Filming starts around April 2016.
Interview segments from cast and crew on how they decided to do an episode set in Victorian times, etc.

Digital Spy has more interviews on the show and the fourth series. Included in the interview video at the bottom, "We start shooting in April."
December 27, 2015:
Not all TV schedules are listing the New Year's Special at the moment. My cable DVR still doesn't list Masterpiece Sherlock. on January 1, 2016 but other things do.
I have heard from one other person who finds the same with their DVR schedule though they are across the country from me. I did find my TV Guide Magazine and my PBS online schedule do list it. Check several places, have faith (click on the above link for assurance by Mark Gatiss that it will be there), or call your PBS station to make sure. A repeat is also scheduled and the episode will be available on the PBS website so you can watch online.
December 24, 2015:

2016 Sherlock Wall CALENDAR
We should have had a notice up on this long before this. Check it out at Amazon by clicking on the image on the right. On Amazon they show the back with small images of each month (you have to change to the alternate image to see that).
December 16, 2015:
New Masterpiece Studio to offer podcasts on Sherlock
The podcast will officially launch on Monday, December 21 with an interview with Sherlock's Mark Gatiss, the co-creator, writer and actor who plays Sherlock's brother Mycroft.
December 15, 2015:

Latest trailer from BBC One
December 4, 2015:
See the Special on the Big Screen with 20 minutes of extras
The special theatrical event is expected to play in over 500 theaters across the U.S.
Buy Tickets now so you are guaranteed a seat for a showing on Tuesday, January 5 or Wednesday, January 6, 2016. You can also see it more than once, of course.
The theatrical version of the episode will include a guided set tour of 221B Baker Street with executive producer Steven Moffat, plus a short 'making-of' with stars Benedict Cumberbatch and Martin Freeman.
November 24, 2015:
Sherlock Christmas special 'to include secret message for Chinese fans'
Steven Moffat disclosed the special episode of Sherlock, starring Benedict Cumberbatch and Martin Freeman, will be full of secret clues for die-hard fans of the original Sir Arthur Conan Doyle novels, as well as something extra for its Chinese audience.

The programme...is watched by 98 million fans in China, who have special names for its stars: "Peanut" for Watson and "Curly Fu" for Holmes.

The seasonal episode... a Sherlock Holmes ghost story. Moffat told the Radio Times: "It's a new story, but if you know the original stories, you'll see that it's fashioned out of quite a few others.

"As ever with us, we've chosen several and there are loads of references. One of them you have to be able to speak Chinese to get." - from The Telegraph (British)
November 9, 2015:
Seems Victorian Sherlock episode reintroduces Sherlock and Watson

The special will also feature Mrs Hudson, played by Una Stubbs, and Watson's wife Mary Morstan, played by Martin Freeman's real-life partner Amanda Abbington.... it will be set in gothic 19th century London....The Christian Post reported that co-creator Mark Gatiss said the special will be based on the Sherlock Holmes book [sic] "The Adventure Of The Musgrave Ritual."
October 26, 2015:
Sherlock Victorian Era Special in Theaters with 20 More Minutes!
"Sherlock: The Abominable Bride," set in the Victorian era...[will be] in theaters — on Tuesday, January 5 and Wednesday, January 6, 2016. The theatrical version will have 20 more minutes of footage than the TV version, which will air on January 1. - from Business Insider
"Tickets for Sherlock: The Abominable Bride will be available beginning on Nov. 6, and can be purchased online at www.FathomEvents.com, or participating theater box offices. The special theatrical event is expected to play in over 500 theaters across the U.S."
"The theatrical version of the episode will include 20 minutes of additional footage, including a guided set tour of 221B Baker Street with executive producer Steven Moffat, plus a short 'making-of' with stars Benedict Cumberbatch and Martin Freeman." - from EW Online
October 23, 2015:
The Sherlock Holmes Victorian Era

New Year's

Special

"...Masterpiece and PBS have announced that the 90-minute one-off special, titled Sherlock: The Abominable Bride, will premiere in the U.S. at 9PM ET on Masterpiece Mystery on January 1, 2016. BBC One also confirmed it is airing the same day in the UK.
"The previously announced Season 4 is also afoot with shooting due to begin in the spring, PBS said. Creators Steven Moffat and Mark Gatiss are 'busy writing away right now,' the BBC tweeted. An airdate is yet to be confirmed on either side of the Atlantic." - from Deadline Hollywood
"Gatiss explained the title ["The Abominable Bride"] comes from Watson's reference to "Ricoletti of the club foot and his abominable wife," a case Holmes and Watson undertook, but author Sir Arthur Conan Doyle never wrote about." - from Bleeding Cool
July 10, 2015:
More News from Comic Con
Moffat "said he hasn't begun writing the show's fourth season but has a rough idea of what twists and turns he'll incorporate."- from KPHO
July 9, 2015:

Showrunner Steven Moffat and producer Sue Vertue, discussed Sherlock at the San Diego Comic Con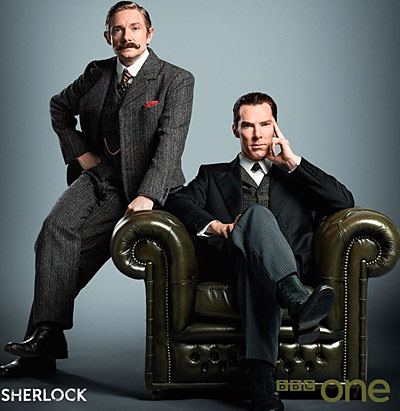 "Moffat said that season four will be the saddest one yet, and that the "gut punch" coming is a back swing that was there from the beginning."
"When asked why the show works, Moffat cited that friendship between the core duo who seem unlikely friends, and the fact that people will always love stories about a man who understands everything but himself."
"Vertue says that they're working very hard to get Sherlock to air at the same time in the UK and US. And Moffat says he does have an idea of the ultimate end of the series in his mind, that he always has…"
See More from Tor
And then from Digital Spy
"I think we're always going to be in love with the idea of the man who understands everything but himself," Moffat muses. "He's obviously quite a damaged individual in a strange way, I think we're always in love with a freak genius, and with what Benedict calls his achievable superpower, and the warmth and gravity of that friendship between those two men." More than anything, it's that lovely unit of Sherlock and John, two men who on the surface don't seem like obvious friends.
Sue Vertue sent Steven and Mark to the Criterion restaurant to plan series four. Of course. Moffat promises "shattering, emotionally draining, you'll never be the same again, you'll never stop crying" cliffhangers.
For "a couple of fanboys" like Moffat and Mark, putting Sherlock back in his rightful time period was a delight. They've already put their own stamp on it, and now they're simply taking their established versions of Sherlock, John and the cast back in time.
"There is some precedent for doing Sherlock Holmes in the Victorian era,' Moffat jokes. He says the whole premise of doing the modern day reboot was "how would Sherlock Holmes exist in a world with an iPhone?", and now in the special the question is "How does Sherlock survive without his iPhone?"
A spot of background info before we get started – Douglas Mackinnon is directing the as-yet-unnamed special. It'll be his Sherlock debut, but he's got form on in the Moffatverse, having helmed a total of seven Doctor Who episodes including last year's standout 'Listen'.
July 9, 2015:

From PBS Masterpiece Theatre on YouTube
Trailer for Sherlock Holiday Special

April 21, 2015:

New Trailer and official plot synopsis "Mr. Holmes" movie which opens June 19 in the U.K. and July 17 in the U.S.:

MR. HOLMES is a new twist on the world's most famous detective. 1947, an aging Sherlock Holmes returns from a journey to Japan, where, in search of a rare plant with powerful restorative qualities, he has witnessed the devastation of nuclear warfare. Now, in his remote seaside farmhouse, Holmes faces the end of his days tending to his bees, with only the company of his housekeeper and her young son, Roger. Grappling with the diminishing powers of his mind, Holmes comes to rely upon the boy as he revisits the circumstances of the unsolved case that forced him into retirement, and searches for answers to the mysteries of life and love – before it's too late. Read more at GotchMovies
March 5, 2015:

Trailer for the new "Mr. Holmes" movie:
January 8, 2015:
More information and rumors about the current filming
A read-through for the Special took place in central London on Tuesday the 25th of November,
It appears that Misfits' Natasha O'Keeffe will be appearing in the Special
Douglas Mackinnon directs the episode
Although it is a special episode, it may not be a Christmas episode
- from Den of Geek

January 6, 2015:

Sherlock currently filming in Bristol

For the Special Christmas episode to show December 25, 2015, which will settle the Moriarity situation. See image of Cumberbatch with slicked down hair and Freeman with mustache (look in the front window of the car in the picture)